I spent the past few nights making this fabric collage. I had many sources of inspiration. My best girls had an itch to get together this weekend and create from cigar boxes. I decided to use just the lid. I applied my rust technique found
here.
I had also been inspired to play with heavily distressed fabrics after visiting
Joanna Pierotti's blog.
You really should take a look at her gallery. Finally, I had seen
Karla's
"Faux Vintage Photo" spotlight in the latest issue of Somerset Studio Gallery. Karla taught us how to use wax paper over an image to give it an aged appearance. Love this technique!
Look for more collages from me in the new shop. Yes, I am finally starting to list a few pieces over at -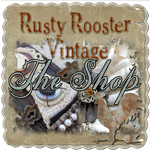 It will be a slow process but I've finally taken the plunge. Give that button a click and check her out. I appreciate your follows over there! I have added email feed so that you will be notified if a new item is listed. Thank you for all of your support! xoxo Linking up to: