A drawer makes it so easy to see my stamps.
I love my Rusty Rooster weathervane found at a local antique store.
I use lots of vintage jewelry in my creations. Having these pretties displayed in the printer's tray makes it so much easier to see what I have.
My mood board is an old garden gate and one of my favorite things in the studio.
Many of my supplies hidden in the closet
One side of the office holds my sewing machine. I also use the cabinets above for paint supplies.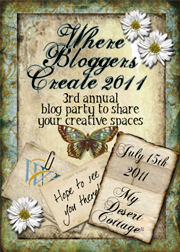 My Desert Cottage